Marking Black History Month | Hazel-Ann's story: nursing is in her blood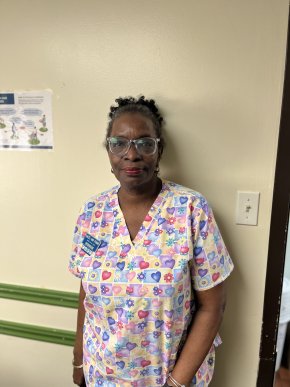 February is Black History Month – an important time to honour and celebrate the legacy of Black Canadians, and their rich contributions to our communities.
We spoke with Hazel-Ann, Director of Care at Extendicare Scarborough, who shared a personal story with us.
Hazel-Ann Frank always knew she wanted to be a nurse. Growing up in St. Vincent & the Grenadines (or SVG) – a chain of 32 islands in the eastern Caribbean – Hazel-Ann was inspired to follow in her Mom's nursing footsteps.
"As a nurse, you have to be passionate about what you do," says Hazel-Ann. "It's not just a job: it's an investment in lives."
She moved to Canada in 1989, with eight years of experience as an operating room and emergency nurse. To practice as an RN in Canada, Hazel-Ann had to go back to school to earn additional qualifications. It wasn't easy: she balanced her education with the birth of two children, and work.
With her impressive qualifications, Hazel-Ann applied for a role as a receptionist at a doctor's office and received an enthusiastic phone call inviting her for an interview. It would be her first exposure to "polite" racism in Canada.
When she showed up, Hazel-Ann was left waiting for 30 minutes, then was briskly told the job was no longer available. She didn't believe it. So she called the office the next day, and sure enough, she was told the job was still available. "It was a culture shock," she recalls of the discrimination. "I'd never encountered it before, but I didn't let it deter me."
If Hazel-Ann could share one message with others this Black History Month, it would be this: "Acknowledge the struggles. Racism still exists in long-term care. You have to understand that, for many people, the way they were raised means they're less comfortable being cared for by people of a certain background or gender."
Celebrate St. Vincent & the Grenadines
Population – 110,000 people
Official language – English
Signature dish – pelau (stewed chicken, rice, pigeon peas, and hot pepper)
Notable celebrations – Carnival (early summer) and Nine Mornings Festival (leading up to Christmas, nine mornings of dancing and gathering in the streets)
Abundant fresh fruits – mango, coconut, cherries, and "five-finger" (also known as starfruit or carambola)
Claim to fame – scenes from the Pirates of the Caribbean movies were shot in SVG